Plan mode
Select Plan to create plans, allocate work orders, and enrich the plan with markups. Use the right-hand pane to add a plan or to view or edit an existing plan.
You can add or view high-level information for each plan, such as the plan creator, the status, and the start and end dates. Below the plan, you'll see the list of work orders allocated to the plan.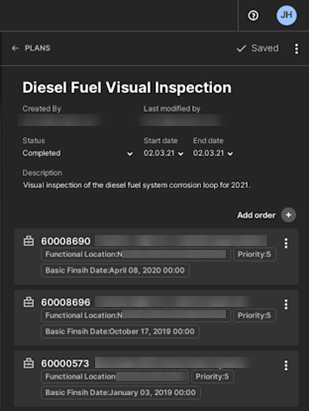 To add work orders to the plan, select Add order and search to find and choose the relevant work orders. Then select Add to plan to add the work orders.
Select an order to view more details, such as the order type and priority. On the Components tab, you can see a list of components (equipment) affected by the order. The components are highlighted in the 3D view to make it easier to see where they are located.
If markups are associated with the order, you can use the Markup switch to turn on the icons and select a markup to view details.
Select a component to view details or to create new markups for the component. Click the plus sign next to the markup type to open the markup pane on the left-hand side.
Click the 3D view to set the markup position and enter information in the text fields. You can also add references to images or documents and open images in full-screen mode to take a closer look.