Search
Early adopter / Beta
The features described in this section are currently in beta testing and are subject to change. We recommend that you don't use the features in production systems.
The features are only available to customers via our Early Adopter program. For more information and to sign up, visit the Industrial data group on the Cognite Hub.
Enter your query in the Search field on the CDF home page and press Enter.
The search results include all connected (contextualized) items. For instance, if you enter the prefix for a pump ID, you'll also find the associated assets, documents, sensor data, and engineering diagrams.
Use the list and 3D icons to switch views. In the list view:
Use the left sidebar to toggle between data types.
For each data type, use the Filters button to refine the results.
Hover over an item for a quick preview. Then select Open for a more detailed view.
Select an item to open the detailed view, and then open the item in Charts (time series only), or on the Canvas.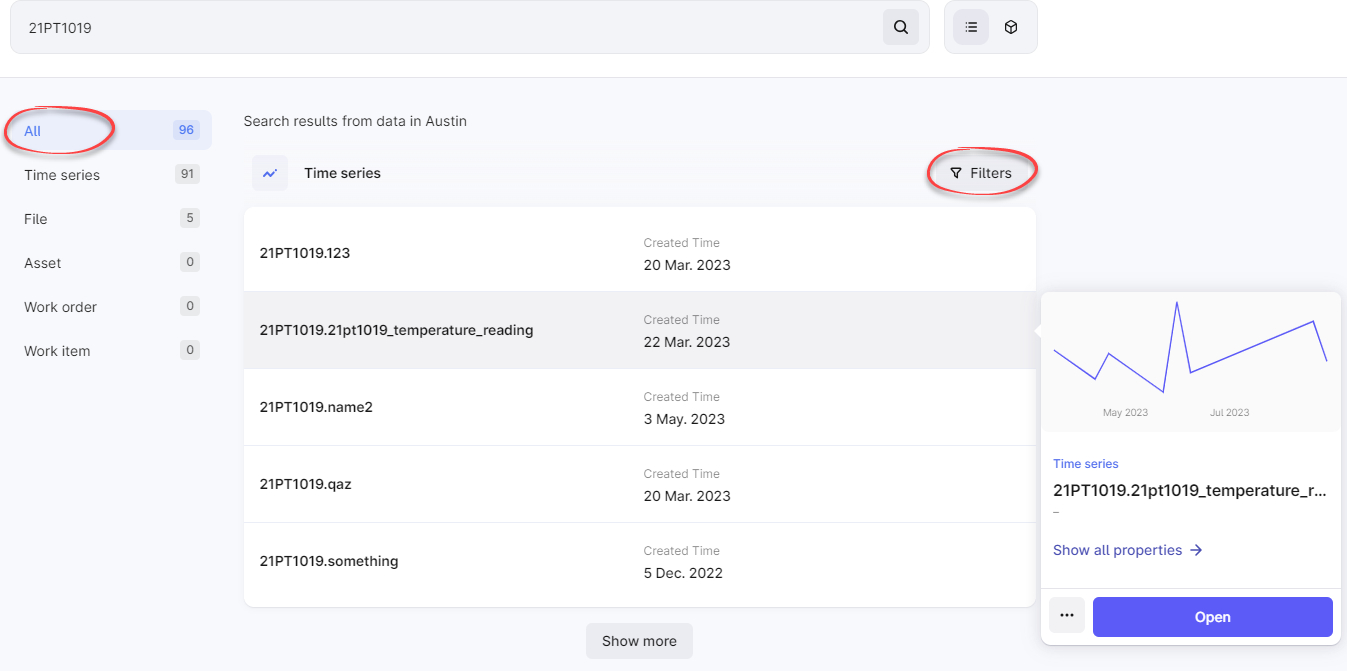 tip
Open an engineering diagram to find connected items.
Search using artificial intelligence (AI)​
Select Search using AI tab to find data using AI. Try one of the example questions or write your own to get started. Here's some tips on how to ask questions:
Ask clear and specific questions, and avoid using many constraints in the same question.
If you don't get any results, simplify your query or select Inspect applied filter to fine-tune the filters the AI uses.
Cognite AI understands synonyms. For instance, questions about notifications also return results about alerts.
Not finding what you're looking for?​
If you don't find what you're looking for, make sure you've selected the correct location for your search. Also, check with your internal help desk or the CDF admin to verify that you have access to the data you want to find.