About the Industrial Canvas
Beta
The features described in this section are currently in beta testing and are subject to change. We recommend that you don't use the features in production systems.
Add assets, engineering diagrams, sensor data, images, and 3D models from your Cognite Data Fusion (CDF) project to a canvas. Visualize and explore data from different data sets, leave comments, and mention people to collaborate with your coworkers.
Get started​
Navigate to the CDF portal application > Industrial canvas.

Create a canvas or toggle between Private and Public to open existing canvases.

Select Add data to add files, time series, assets, and events. You can also drop local .pdf files and images directly onto a canvas.
tip
To re-use a canvas, duplicate it from the overview page or the More options (...) on a canvas.
Explore and collaborate​
To explore the items on a canvas and to collaborate with your coworkers:
Select the Spacebar key and use the mouse to pan, or use two or more fingers on a touch screen.

Select and drag to move items on the canvas.

Use the zoom controls, the scroll wheel on a mouse, or pinch and stretch on a touch screen to zoom in and out.

Select and hold any item on the canvas to see options for changing labels, finding related data, and opening the Data explorer.

Select Change fields to select which properties to display for assets and events, such as work orders. For time series, select a time frame to navigate between current and historical data or set a specific date. You can open time series in Charts.

Use the canvas toolbar to add text, sticky notes, shapes, and lines.

Layer canvas items and right-click to send items to the front or back.

Use the comment button on the toolbar to add comments and mention (@name) coworkers. Open the Comments panel () to see all comments.
Options from engineering diagrams​
Select the purple or orange links and the plus sign (+) to add assets, files, and time series from an engineering diagram on the canvas. For assets on an engineering diagram, you can:
View live sensor data by pinning a time series connected to the asset to the canvas. Add rules to set threshold values, for instance, temperatures, and use colors to visualize any breaches.
If there's a 3D model connected to the asset, select the 3D icon to open the 3D view.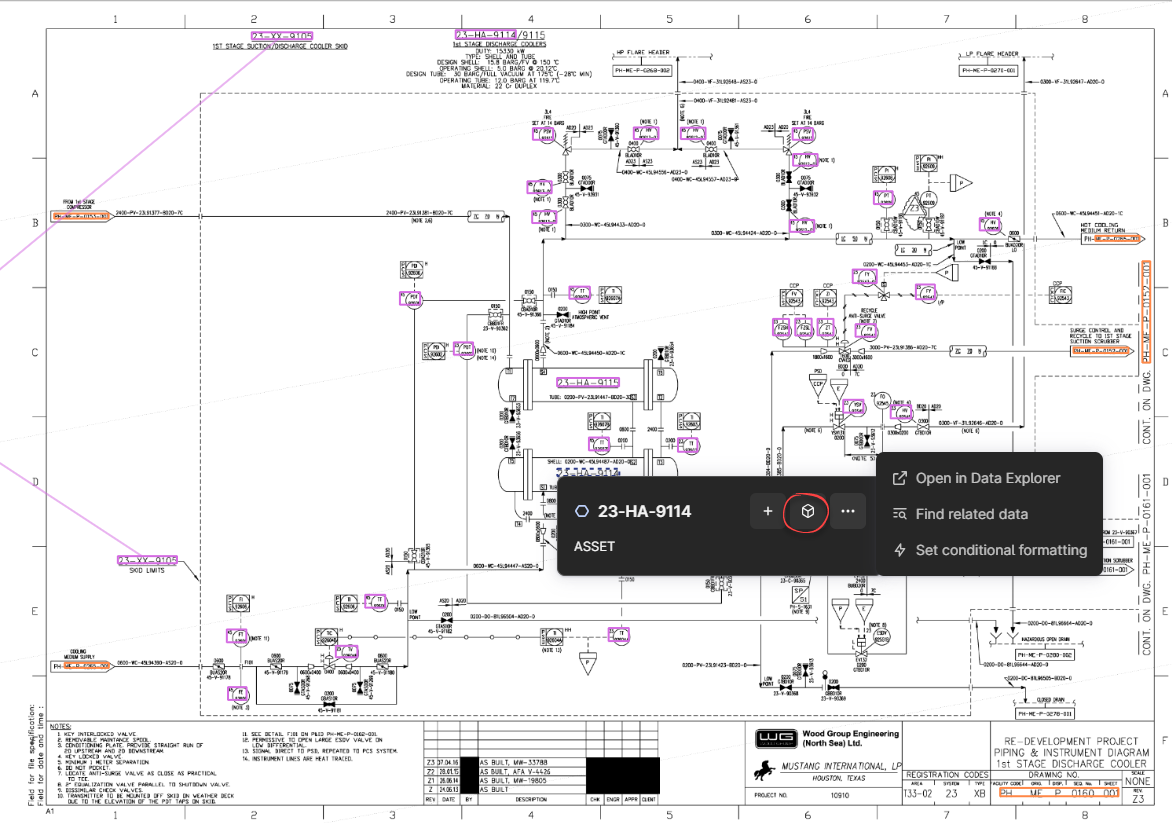 Troubleshoot​
If you can't add comments or mention coworkers, check with your internal help desk or CDF admin that user profiles are enabled for the CDF project.